Earn Notes when you buy,
then redeem them for discounts!
Turn your Notes into discounts
Discounts shown in US Dollars
How it Works
Join Free
It's free and simple to join Aroma Notes
Buy and Earn
Earn 1 Note for every $1 you spend with Edens Garden
Redeem for Discounts
Apply your earned notes to discounts on future purchases
Level Up, Earn More
Save 5,000 notes to level up and earn 2 notes per $1 spent
Redeeming is easy, just apply your Notes at checkout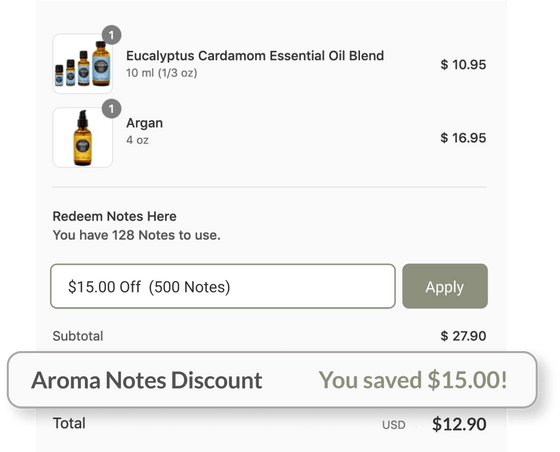 The more you buy, the more you earn!
When you join the Aroma Notes reward program, you start as a Lavender Member, where you'll earn 1 Note per $1 spent. When you save more than 5,000 Notes in a year, you'll automatically move up to the Rose Member level, earning 2 Notes per $1 spent!
Lavender Member
1 to 4999 Notes
Earn 1 Note
Per $1 Spent
Rose Member
5000+ Notes
Earn 2 Notes
Per $1 Spent
More Ways to Earn
You earn everytime you buy. But you can earn in other ways too:
* The $500 must be for the cart total
Frequently Asked Questions
When do Notes start accruing?
For all customers, Aroma Notes start on the day you sign up. Notes cannot be applied retroactively.
Do my Notes expire?
Yes, your Aroma Notes expire after one (1) year of rewards inactivity. To keep your Aroma Notes from expiring, you need to spend Aroma Notes within 1 year. Aroma Notes accrued in your account expire 1 year after the Aroma Notes were earned. For example, if you earn Aroma Notes on March 20, 2020 and do not earn or spend for 1 year, they will expire on March 19, 2021.
Who can join Aroma Notes?
Edens Garden customers who are 18 years and over are eligible to join the Aroma Notes program and start accruing points. Customers are automatically enrolled into the Aroma notes program upon creating an Edens Garden customer account. No purchase is necessary to enroll in the Aroma Notes program.
What is the difference between Lavender and Rose member status?
All customers are automatically enrolled into Lavender Status when they join the program. Lavender Status earns you 1 point for every dollar that you spend. When a customer reaches 5,000 points within one year, they change from Lavender Status to Rose Status. Customers who reach Rose Status earn two points for every dollar spent and have access to exclusive offers and sales. To maintain Rose Status you must continue to earn 5,000 points or more each year.
How do I use my Aroma Notes?
All points add up to Aroma Notes, which can be cashed in at $5, $15, $25 and $50 during checkout. The maximum amount of points you can redeem towards one purchase is 1400 points ($50 USD).
Have more questions?
Our customer care team is here to help! Email your questions to info@edensgarden.com.